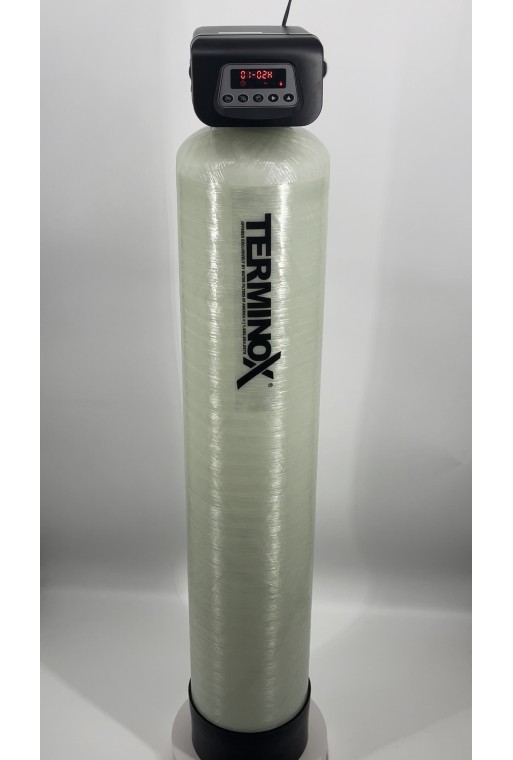  
7" Terminox ISM Iron-Sulfur-Manganese Filter
Terminox 7" Premium Well Water Filter
S&H $80
Our Premium Terminox® ISM REMOVES IRON, SULFUR, MANGANESE Etc.
Also removes rust, dirt, turbidity, tastes, odors and even strong chemicals like chlorine. The most advanced well water filter ever. NO SALT, CHEMICALS or MAINTENANCE! Don't forget the Optional Bypass and Quick Connect for easy install on checkout.
OUR MOST POPULAR WELL WATER FILTER
Our Premium Terminox® ISM Water filters are chemical free, salt free and maintenance free AMERICAN MADE well water filter systems. They are great for the DIY Homeowner or ANY handy person. And while we carry EVERY kind of iron filtration system you can imagine, our Terminox® ISM is the most popular by far. The Terminox® ISM removes iron, rust, sulfur, manganese, dirt, turbidity, tastes, odors and even chlorine. The most advanced well water filter ever designed. No harsh chemicals, no salt and nothing to add or replace. You just "set it and forget it".
INCLUDES:
*7" Terminox ISM Filter (lower flow rates) Comes Complete
* 7" x 44" Tank. Add about 6" for control valve on top.
* 0.5 Cubic Foot of high quality filter media included.
* Self Leveling Tank
* Comes with 3/4" and 1" Threaded inlet/outlet connections.
* Hard Programmed: Never lose the program during power outages or storage.
* Perfect for vacation homes and hunting cabins, as well as RVs and Mobile Homes.
* No filters to replace or ongoing maintenance.
* Max flow rate is 7 GPM. If you have a higher flow rate, just give us a call.
* S&H $80
* 10 Year Manufacturer's Warranty on every tank we sell. Industry leading 7 year warranty on electronics, That is two years longer than almost any other electronic controllers on the market, including the Fleck and Autotrol brands that the in-home sales companies like to sell. And as much as 10 times the warranty or more, of those cheap units you see the department stores and plumbers selling. And watch out for those cheapo blue and black tanks too. That is your first sign you are dealing with the low end stuff.
QUESTIONS? Call TOLL FREE: 800-684-0979. Phones answered 24/7 by REAL HUMANS, that are based right here in the Good Old USA. And never any pressure to buy. We just answer your questions and help you figure it out.
No "dog and pony show" here. EVER... And please remember: IF WE DON'T HAVE EXACTLY WHAT YOU NEED WE WILL MAKE IT. We are the manufacturer, not a middle man. BUY FACTORY DIRECT.